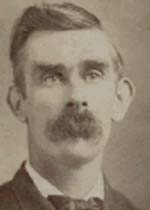 Congress created the position of Commissioner of Indian Affairs in 1832, when the "Indian Office" (the common name for the Bureau of Indian Affairs) still fell within the War Department. Its first commissioner was  Elbert Herring.
William A. Jones (Sept. 27, 1844 –  Sept. 17, 1912) became Commissioner of Indian Affairs in 1897 and continued in the position until 1905. One of the last armed conflicts between Native Americans and U.S. troops occurred at Sugar Point on the eastern shore of Minnesota's Leech Lake in 1898. Ojibwe Indians had been angered by what they considered unfair treatment and the too-frequent arrests of Ojibwe men. When U.S. troops tried to re-arrest Bug-O-Nay-Ge-Shig (Hole in the Day) after he had escaped a U.S. marshal, they got into a skirmish that left them with six dead and ten wounded. The Ojibwe suffered only one injury.
William Jones arrived at Leech Lake and held council with the Ojibwe leaders. He later condemned "the frequent arrests on trivial causes, often for no cause at all." Jones said that the Ojibwes would now go home and live peaceably if the whites would treat them fairly, and added that the spirited stand the Ojibwes had taken had taught the white people a lesson.
_____________________________________________________